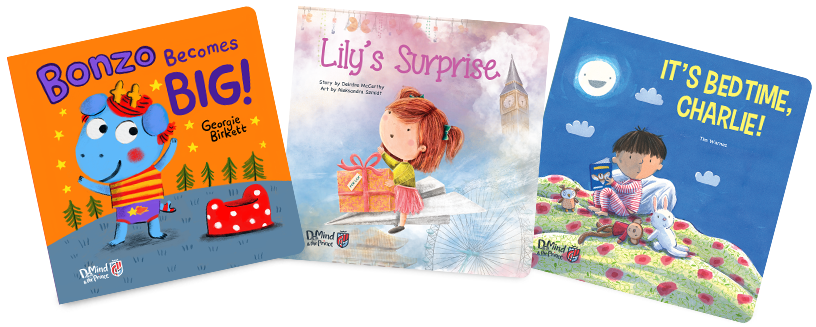 D Mind & the Prince, our early English programme, is crafted by a creative team of international writers, illustrators and editors under the consultancy of experts in early childhood education and in the English language. With their expertise, D Mind & the Prince can assure parents of its quality and effectiveness in providing the best for the little ones.
We believe in the power of picture books. Our new classics not only boost the development of young children's language, but also open their eyes to the shapes of creativity. Through our stories, children will be able to see the global perspectives, cultural elements and many other messages these award-winning writers got embedded in their beautiful text.
The Minors Nursery School
The Minors Nursery School, a school under top-tier education provider Alpha Plus Group, is our consultant on early childhood education. Their team has been contributing valuable consultancy on lesson planning, methodologies and pedagogies for D Mind & the Prince. All to ensure young children can receive education on par with top international schools worldwide.

Did you know that Prince William and Prince Harry studied at The Minors Nursery School?
Professor David Crystal, OBE
We are honoured to have Professor David Crystal as our language consultant. He is one of the world's foremost linguists on the English language, and currently works as a writer, editor and lecturer.
He had published the first of his 100 or so books. By 1964 he became known chiefly for his research work in English language studies. His authored works are mainly in the field of language, but he is perhaps best known for his two encyclopedias for Cambridge University Press, The Cambridge Encyclopedia of Language and The Cambridge Encyclopedia of the English Language (3rd edn 2018). In 2015, he co-authored Oxford Illustrated Shakespeare Dictionary with his son, Ben Crystal. He was also the founder-editor of The Journal of Child Language and Child Language Teaching and Therapy.
He is currently patron of the International Association of Teachers of English as a Foreign Language (IATEFL) and the Association for Language Learning (ALL), president of the Chartered Institute of Editing and Proofreading (CIEP) and the UK National Literacy Association, and an honorary vice-president of the Institute of Linguists and the Royal College of Speech and Language Therapists. He received an OBE for services to the English language in 1995 and was made a Fellow of the British Academy (FBA) in 2000. For his enormous influence on English language teachers and learners worldwide, Professor David Crystal received The Outstanding Achievement Award at British Council ELTons in 2019.